Specification of the Lidl Mistral SUP
The shape and dimension of the Lidl Stand Up Paddleboard corresponds to a classic all-rounder. With a length of 320cm (10'6″), width of 84cm (33″) and thickness of 15 cm (6″), the Mistral SUP offers decent buoyancy. Unfortunately, the exact volume is not specified. But thanks to the classic all-round shape, with round wide nose as well as the 3 fins, the SUP is very tilt-resistant and thus ideally suited for SUP beginners.
Lidl specifies the maximum load capacity with about 150kg. From our point of view, this value is estimated a bit too optimistic. Nevertheless, the board is certainly also for heavier paddlers / inside enough Tragfähig and can also be used in pairs or eg with dog. 
The total weight of only 10.8kg is absolutely fine. Especially when you consider that the board has a two air chamber construction, which we will discuss in more detail in the next section.
Pros and Cons
Complete set with leash, paddle, pump & extras
Very good value
Various flaws in the build quality

.

Accessories of modest quality
Always sells out quickly
Construction and quality of the 10.6 Mistral SUP
The SUP was constructed with a drop-stitch core and a single-layer PVC layer. 
The single-layer construction is slightly less robust than the double-layer, but the SUP is slightly lighter and overall easier to handle, for example, when rolling up.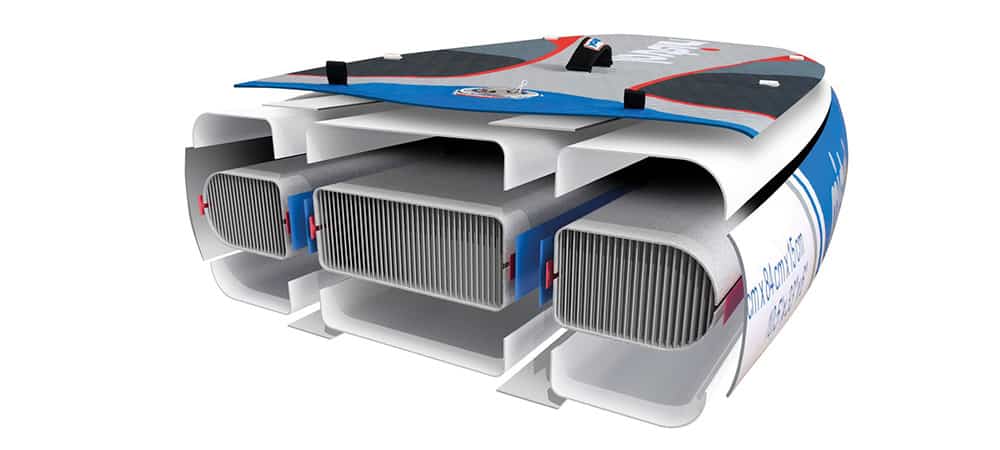 For this purpose, the board has two air chambers, which are good for stiffness and especially safety. That is, the board is inflated in two places. One valve at the back and one on the standing surface. These two separate air chambers, prevent in the event of a defect, such as a hole, that all the air escapes. The one remaining, filled air chamber ensures in each case that the SUP can still be used as a life raft.
However, this plus in safety is bought with a slightly cumbersome handling. Instead of completely filling the SUP via only one valve, the pump must now be applied up to 4x (2x per valve). 
The workmanship is overall, well, okay. Although it seems generally robust and will certainly give pleasure for a long time with appropriate use. But it is of course not an absolute premium product, which you should not expect in the price range under 300 euros. 
Some glue traces can be found quite often and bubbles can also be seen on the glued PVC layers. With today's state of development, that is certainly better possible, but you also have to make certain compromises in the build quality at such a price.
Performance of the Lidl SUP
The SUP behaves exactly as you would expect from such a board. Because, of course, it is slowed down by the rounded tip when paddling hard, a race board it is not and also for really long tours there are longer, narrower specialists. 
But that is not the claim of such an all-rounder. Due to the wide footprint, it offers a high tipping stability, which helps especially in the first attempts not to land constantly in the water. 
Anyone looking for a good-natured board, also suitable for beginners, for quiet paddling and switching off from everyday life, will be well served by the Mistral SUP. 
Boardfeatures
The stand surface is covered by a deck pad with small Mistral symbols, which ensures grip. Unfortunately, the structure is a bit too little pronounced, which makes the standing surface a bit slippery when there is enough water.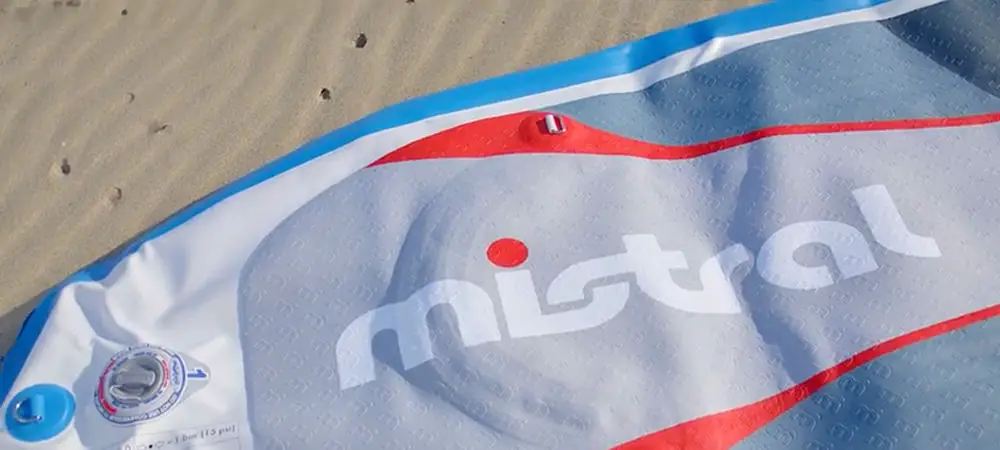 Two small fixed fins and one large one ensure a good straight line run. The large one is mounted in a standardized US fin box. This allows the use of fins from other manufacturers that use the same system. 
In addition to the US finbox system, the plug-in fin system is also widely used on stand up paddle boards, but these two are not compatible with each other.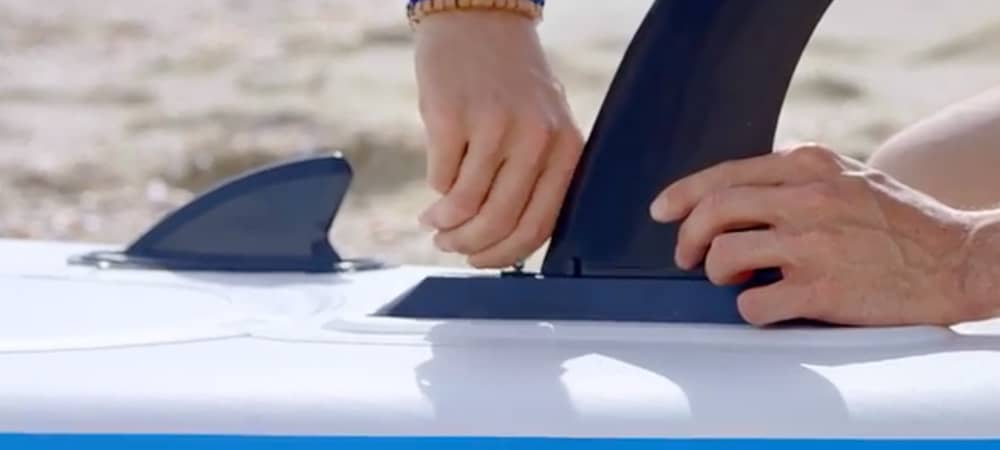 The board has various D-rings on which accessories such as the supplied kayak seat can be mounted, as well as a luggage elastic in the front area for stowing luggage. 
Accessories
Positive to mention is the extensive accessories, which leaves nothing to be desired in the Lidl SUP. The aforementioned kayak seat is included, as is a drybag for dry storage of small items. In addition, a coiled leash is included in the delivery. 
The 3-piece paddle can also be converted into a kayak paddle. Where it is with a weight of 1.3 kg rather on the heavier side and at the plug points not really satt Sitzt. 
The double-stroke pump with which the board is inflated in about 8 minutes, does its job.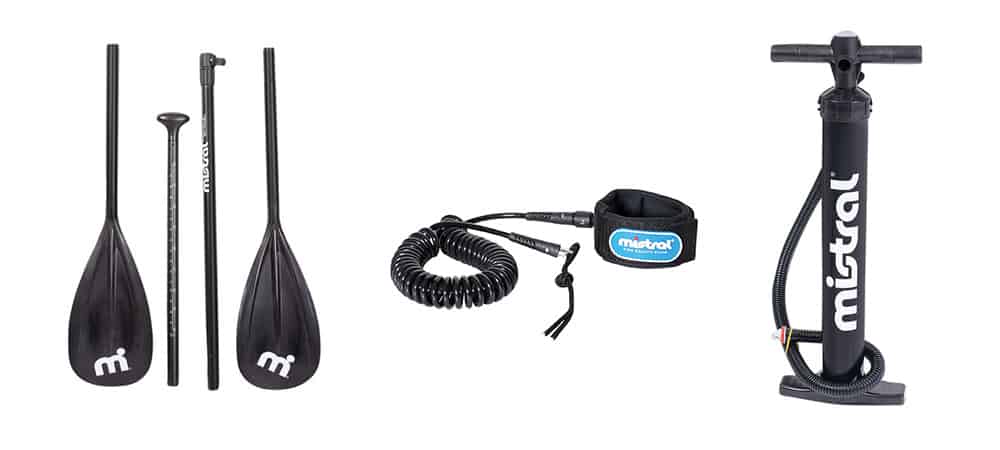 The included backpack with enough space for the board and accessories, brings the equipment from A to B as expected. If even here the processing of seams and the fabric does not seem to be the highest quality.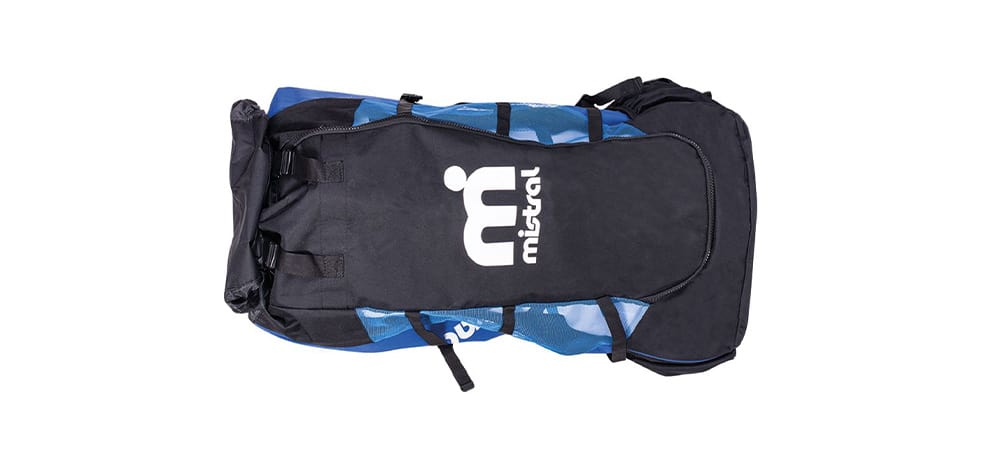 Yes, of course, an experienced paddler will be able to find various weaknesses in all these things. But here again you have to consider what you get everything for a price under 300 euros. 
Of course, you have to expect some sacrifices. But will that bother a beginner or occasional paddler to whom this set is aimed?
No, most likely not.
Brand Mistral
The Mistral brand has been active in water sports since 1976. Originally a Swiss company, its headquarters is now in the Netherlands. The brand gained great international fame mainly for its innovative windsurfing boards. 
With the decline of windsurfing, the focus has been increasingly on Stand Up Paddling since 2008. The fact that Mistral continues to be innovative and progressive can be seen in the fact that they have been producing some of their high-end iSUP models in Europe since 2014 in order to be able to guarantee the highest quality of workmanship.
Our conclusion on the Lidl Stand Up Paddleboard
The Mistral 10'6″ which is available at Lidl is a solid complete package. It is ideal for beginners and novices who want to spend quiet moments on the water from time to time. 
Point ready conclusion. Because that would actually say everything. A SUP under 300 Eur is aimed at this target group. However, who has more sporting ambitions or in mind to practice the SUP sport long-term and more extensively, is certainly well advised to invest more money.