Important facts about the Oceana SUP in brief
First and foremost, the Bestway Hydro-Force Oceana SUP appeals to beginners and novices. With its length of 305 cm (10'0″) and a width of 84 cm, it has balanced riding characteristics. This means that it has a very good tipping stability, so that even SUP newbies feel comfortable quickly, but also has a high maneuverability.
This board is suitable for all family members, regardless of age and ability. As an all-round SUP it can be used for different SUP variations and in almost all conditions. However, the focus is on fun and relaxation. For those who like to go very fast or on long tours, the Hydro-Force Oceana is not the right SUP.
Thanks to the extensive complete set, it is perfect for beginners who do not yet have any other SUP equipment.
With a double-stroke air pump, infinitely adjustable aluminium paddle, leash, removable kayak seat, repair kit and transport rucksack, everything is included so you can hit the water straight away.
For price-conscious SUP beginners and recreational paddlers who want to take a leisurely spin on the lake or calm river from time to time, the Bestway Hydro-Force Oceana is an interesting paddleboard.
Pro/Contra
extensive beginner's set at a reasonable purchase price
high tipping stability and beginner friendly
also suitable for children
kayak seat included in the set
Bestway Hydro-Force Specification
Without a doubt, the Hydro-Force Oceana is a classic all-round board. Both the 305 cm (10′) length, as well as the 84 cm (33″) width and the roundish completely correspond to the image of an all-rounder. Thus, the tipping stability is clearly in the foreground. This allows beginners and less experienced paddlers a quick, effortless entry into the Stand Up Paddling sport.
With a thickness of 12 cm (4.7″), the board is designed for a load of 110 kg (242 lbs) according to Bestway. However, this value should always be taken with a grain of salt. As a rule, we recommend that the board is loaded to a maximum of 15-20 kg below the specified load. This guarantees that you do not get wet feet and can benefit from the optimal riding characteristics. This makes it less suitable for heavy paddlers or tours with a lot of luggage.
With a weight of 11.2 kg the Hydro-Force Oceana can't keep up with the lightest board on the market, but on the other hand it is blown a little less by wind and waves in the water.
Construction/processing quality
Like all inflatable stand up paddle boards, the Bestway Oceana is made with a dropstitch construction. This dropstitch construction has been around for a few years and is used on a variety of inflatable boats, floating docks and even airplanes. A core is formed from thousands of intertwined polyester threads, which is then bonded to an outer layer of PVC. This construction method creates a very stiff, waterproof paddle platform that provides plenty of stability and buoyancy.
Handling/riding characteristics of the Beast SUP
The Bestway Hydro-Force Oceana convinces as an all-round SUP especially with maneuverability and stability. Especially in the beginning, keeping your balance is not easy and takes some getting used to. This is where the wide construction of the Oceana comes into its own. Because thanks to the calm water position and tipping stability, even beginners will feel comfortable on the SUP very quickly. A quick sense of achievement provides the necessary motivation to continue practicing and master the learning curve associated with stand up paddling.
Of course, you won't reach top speed here, but it's ideal for a leisurely cruise over lakes, canals and other calm waters.
SUP Features
Deckpad: The surface is covered with a so-called EVA pad. This ensures that you always have a good grip even with wet feet and can put the full power into paddling.
Luggage net: In the front area there is an elastic band to which you can attach any equipment on the Oceana board.
Carrying handle: Like every board, a carrying strap is mounted in the middle of the board. Therefore, this is always positioned at the point where the SUP is nicely balanced, it also marks the ideal position to stand there about shoulder width.
Fins: The three fixed fins provide good straight-line stability and maneuverability. Personally, we are not big fans of these fixed fins. When rolling up they are always a little in the way and bend a little. On the other hand, you can never forget them and save the assembly, so getting ready is even easier.
Accessories in the Hydro-Force Oceana starter set
Double Stroke Air Pump: The air pump pumps air into the board in double stroke mode when pushing down as well as when pulling up. As soon as you have reached a certain basic pressure and pulling up requires a lot of force, you switch to single-stroke mode. In this mode, you only pump air when pushing down with your body weight.
Paddle: The 3-piece aluminum paddle can be continuously adjusted to a length of 217 cm to fit your own body size. Suitable for the kayak function of the Oceana, the paddle can be converted into a double paddle. Like practically all of these set paddles, it is rather on the heavier side, but it is still sufficient for beginners. If you then but more often and something sporty is on the move, most switch to a lighter composite or carbon paddle.
Kayak seat: With the included kayak seat, you can turn your SUP board into a SUP kayak and thus expand the application possibilities. The handling is very easy and the assembly succeeds on every board in a short time.
Leash: The included safety leash is a coiled leash. This is already curled on the board and expands to the full length only in a fall into the water.
Transport backpack: The carrying bag offers enough space for the board and all accessories. At the same time, it is kept rather simple and less suitable for very long distances to hike.
Repair kit: Also included is a repair kit with a few PVC patches and a valve wrench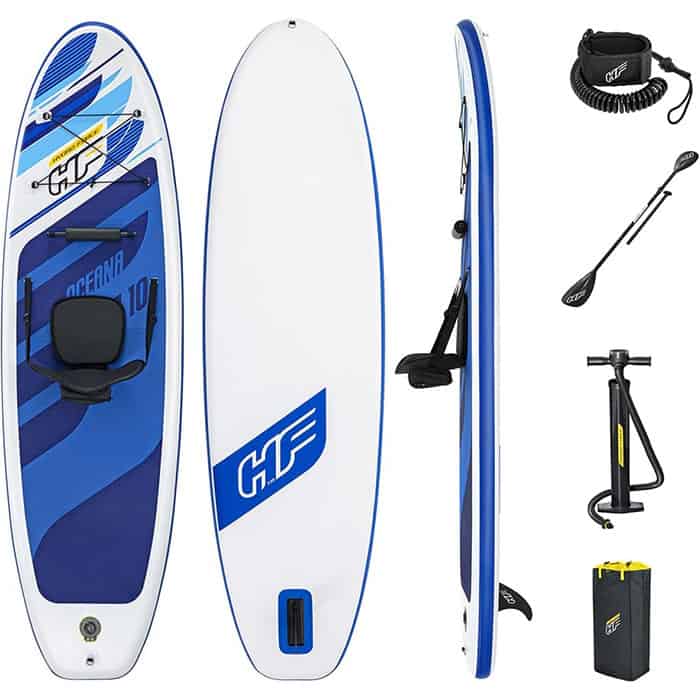 Our recommendation for you
Beginners who are also interested in the kayak function will find virtually everything combined in this SUP. As a complete package at a reasonable price, the Bestway Hydro-Force Oceana can definitely convince.