Who is the Vapor for? The most important in a nutshell
The Aqua Marina Vapor 10'4″ is a classic family and beginner SUP board. As an all-round board, it has a rounded shape and wide footprint of 79 cm (31″). These two features make it ideal for beginners who want to make their first attempts at Stand Up Paddling. Because the high tilt stability makes that the SUP lies quietly in the water, which makes finding the balance of course significantly easier.
Like all Aqua Marina "All-Around" boards, the Vapor has also received an update in 2021. The new cool look is just as good for this SUP as the slightly thicker construction of now 15 cm. Due to the increased volume and better stiffness, we assume that people up to about 95 kg can use this board.
As an all-round SUP from the inexpensive segment, you can of course not expect the highest performance here. If you like to go fast, do long tours and spend every free minute on the water, the Vapor is not ideal for you.
But for beginners and families who want to make the occasional leisure ride or play for the kids, this SUP is made for this target group. As a complete package, everything is included, what you need for the start in Stand Up Paddling: Double stroke air pump, 3-piece and infinitely adjustable paddle, a simple safety line (leash), removable single fin (plug system), transport backpack for the SUP, repair kit.
The Aqua Marina Vapor is a SUP with which you can relax on lakes, canals and quiet rivers during a leisurely evening round.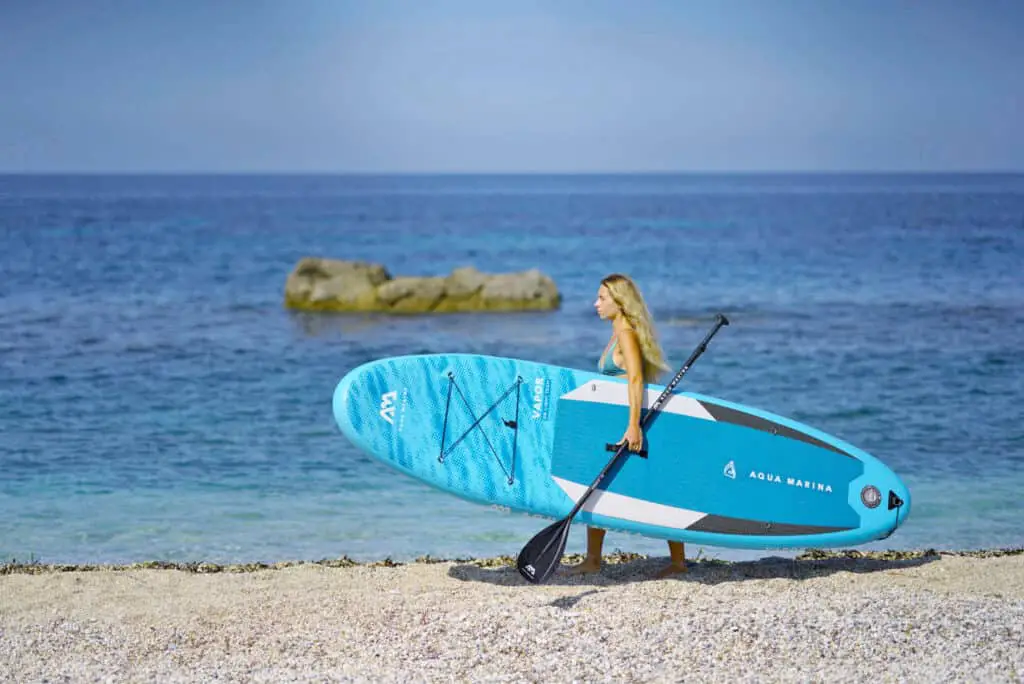 Aqua Marina Vapor Specification
The Vapor SUP has a length of 315 cm (10'4″), 79 cm (31″) width and s thickness of 15 cm (6″). This thickness has been adjusted from 10 cm with the innovations Aqua Marina made to various boards in 2021. This is a remarkable adjustment because the thickness has an influence on the volume as well as on the stiffness of the SUP.
With 310 liters of volume, the Vapor has now become an option for slightly heavier adults. Aqua Marina specifies the maximum load with 140 kg. But as always, this value given by the manufacturer rather means that the Vapor up to this weight would certainly not sink, but you can no longer expect a good ride. We estimate users up to 95 kg body weight but should be able to use this board without any problem.
For those who find this insufficient, or for those who like to SUP in pairs more often, Aqua Marina also has larger boards in the same "All-Around" category as the Vapor.
As a classic all-round board, the Vapor offers good-natured riding characteristics. A good maneuverability combined with a super tilt stability it is primarily aimed at SUP beginners and leisurely paddlers.
As the second smallest SUP of the "All-Around" series, the Vapor weighs just 8.5 kg. A good value, which makes the transport and handling of this SUP uncomplicated.
Pro/Contra
Complete set at a reasonable purchase price
Beginner-friendly thanks to high tipping stability
Only 8.5 kg heavy
also suitable for children
Kayak seat (sold separately) mountable
Double stroke air pump (Liquid Air V2) Aqua Marina paddle (Sports III) Single fin leashDouble stroke air pump (Liquid Air V2) Aqua Marina paddle (Sports III) Single fin leash
Simple Leash only, not spiral
Construction/processing quality
The Aqua Marina brand has been on the market for several years with these boards of the "All-Around" series. They have optimized the boards from time to time and so also the Vapor SUP. It is clear that the Vapor cannot compete with an absolute premium board, but that is not the claim. For this we feel the Aqua Marina products always in a good balance, with solid quality at reasonable prices.
The Vapor SUP is built with the so-called "Drop-Stitch Light" technology, as Aqua Marina calls it. The core is made up of thousands of threads that hold the top and bottom together and give all inflatable SUPs their shape. This core is then covered with a single tough layer (single-layer) of PVC, resulting in the visible outer shell. Additional strips of PVC are glued along the edges (rails), which gives the board more stiffness and protects it a little better against bumps and scratches.
Dabei entsteht ein SUP welches nur 8.5 kg schwer ist und über eine ansprechende Verarbeitungsqualität verfügt. 
Handling/riding characteristics of the Vapor SUP
Thanks to a balanced ratio of length and width, the Aqua Marina Vapor is best suited for relaxed recreational cruising on a calm body of water. As a classic all-round SUP, the focus is clearly on versatile usability. For those who like to be very sporty or often have longer tours in mind, there are other boards.
When paddling, you will of course notice that the SUP is relatively slowed down by the wide, round design. But it has a very calm water position, which is an important factor especially for stand up paddling newcomers. Due to the low weight and length of 10'4″ it is also easy to maneuver for light paddlers at any time.
Aqua Marina Vapor Features
Deckpad: So that you have a secure grip even with wet feet, the standing surface is covered with a non-slip EVA pad. This gives you a good stand and you can paddle with full power.
Luggage net: In the front area there is an elastic band to which you can fix any equipment on the SUP.
Carrying handle: Like every board, a carrying strap is mounted in the middle of the board. This also marks the place where you stand best, because it is mounted exactly where the SUP is in balance.
Several D-rings: To which, for example, the safety line (leash) or other accessories, such as an optionally available kayak seat to attach.
Kick Pad: In the stern area, there is a small bump in the deck pad, which is called a kick pad. Experienced paddlers can use this to perform quick turning maneuvers.
Accessories in the Aqua Marina starter set
Double-stroke air pump: With an inflatable SUP board, the air pump is of course one of the most important accessories. That's why it's logical that a beginner SUP like the Vapor comes with one.
Aqua Marina paddle: The 3-piece paddle is continuously adjustable from 175 to 210 cm, so that it can be optimally adjusted to any body size.
Single fin: The single center fin is easily mounted without tools via the plug-in system. The large dolphin-shaped fin ensures that the board runs straight ahead and does not just float around in the water.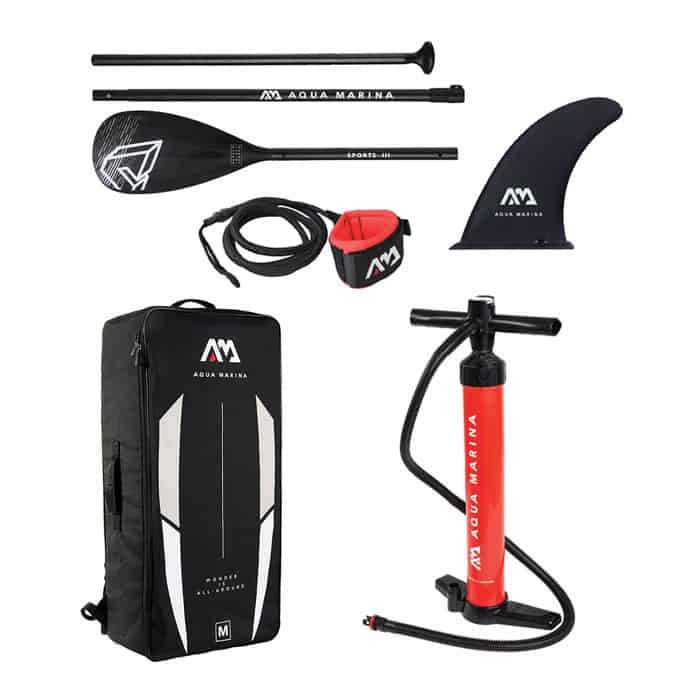 Leash: A leash is also included in this complete set. From our point of view one of the most important safety precautions. This connection guarantees that the board does not drift even if you fall into the water and you always have a "saving" buoyancy aid close by.
Unfortunately, this is not a spiral coiled leash. This would always lie nicely curled on the board and not be dragged in the water after. After all, the Aqua Marina Leash is somewhat contracted and shortened by the way it is woven, and only under tension it extends to full length.
Transport backpack: The backpack is another item that has been upgraded over the years. It used to be a very simple folding backpack and now it's a real backpack, with a large main compartment and enough space to fit everything. The lightly padded straps are adjustable and a chest strap provides a good grip.
Repair Kit: In the repair kit you will find a few PVC patches and a valve wrench.
Our recommendation for you
We find the Aqua Marina Vapor 10'4″ a very successful entry-level SUP. A good tilt stability, all-rounder-typical driving characteristics make it an ideal board for casual paddlers. Thanks to the low weight, it is always easy to ride even for lighter people and also uncomplicated in handling.
Solid build quality combined with the extensive accessory package, the Vapor is a very good option for price-conscious buyers.