Important facts about the Retrospec Weekender in brief
As a classic all-round SUP, the Weekender board primarily appeals to beginners and novices. With its length of 305 cm (10'0″), it has well-balanced riding characteristics that come into their own in a wide range of waters and conditions. With the width of 30″ it still has enough tilt stability that the targeted beginners will quickly feel comfortable on the board.
Clearly, the fun and the beautiful experience out on the water is the focus of an all-rounder. For those who like to go very fast or on long tours, we recommend focusing more on touring boards.
Thanks to the fact that it is a complete set, even beginners who do not have other SUP equipment can start immediately on the water.
With the double stroke air pump, infinitely adjustable aluminium paddle, a coiled safety line (coilded leash) repair kit and the transport rucksack, you have everything you need.
For budget-conscious SUP beginners and recreational paddlers who want to take a leisurely spin on the lake or calm river every now and then, the Weekender Inflatable Paddle Board 10′ is a very cool SUP package.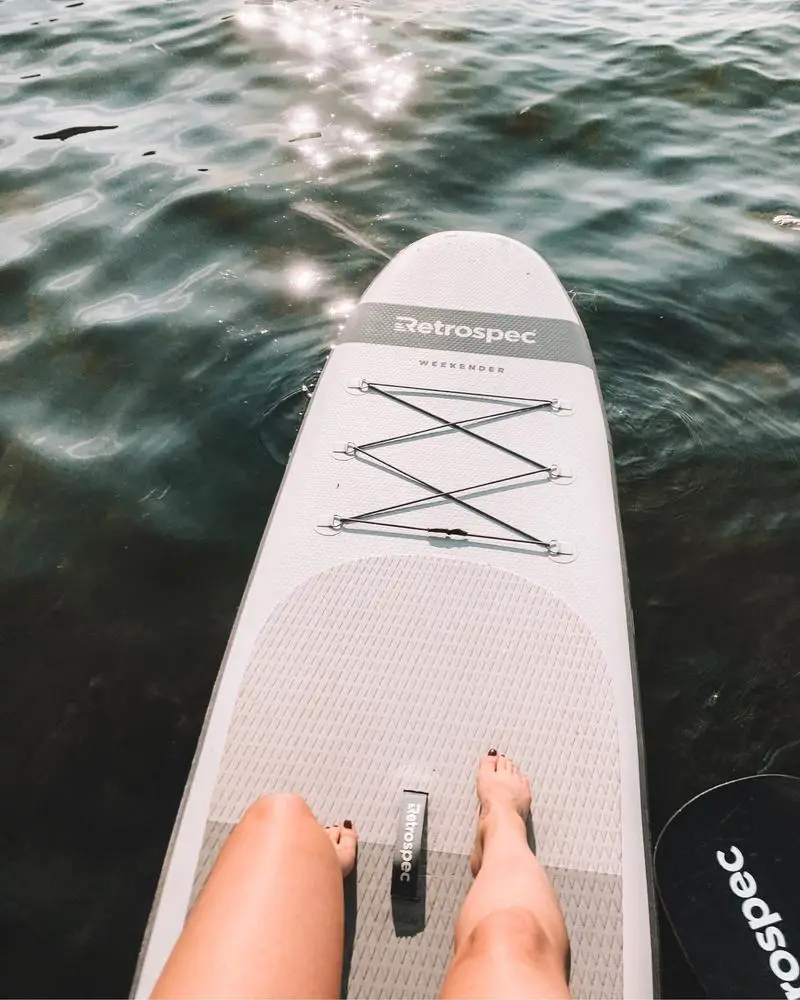 Pro/Contra
Complete starter set at a reasonable purchase price
Beginner friendly
Beautiful design and available in different colors
The Weekender 10′ Specification
Without a doubt, the Retrospec SUP is a classic all-round board. Both the 305 cm (10′) length, as well as the 76 cm (30″) width and the rather rounded outer shape correspond to the image of an all-round SUP. Thus, the tilt stability and good maneuverability is clearly in the foreground. This allows even less experienced paddlers a quick, effortless entry into the SUP sport. Because nothing is more frustrating than constantly falling into the water during the first attempts. On the Weekender beginners quickly feel comfortable and is therefore ideal to experience the necessary motivation for rapid progress.
With the thickness of 15 cm (6″), the board is designed for a maximum load of 125 kg (275 lbs). Whereby this value given by the manufacturers is always to be enjoyed with some caution. Surely the Weekender SUP could still stay above the water with this load, but you shouldn't expect good riding characteristics anymore. We recommend a maximum paddler weight of approx. 110 kg (220 lbs). This way you can be sure that your feet stay dry and you glide nicely over the water. For this reason, it is less suitable for very heavy paddlers or tours with a lot of luggage.
The tare weight of just 7.7 kg (17 lbs) is a very good value. Thus, it is of course "easier" to transport and to carry with the included backpack even over longer distances without any problem.
Construction/processing quality
The Weekender SUP is made with the so-called drop stitch technology. The top and bottom are joined together with the help of thousands of threads. This core is then coated with a military grade PVC layer. Pressurized with air, this creates a very durable board that will not bend under stress.
We personally really like the quality and design of the Weekender Board. As a little bonus, it is also available in different color variations.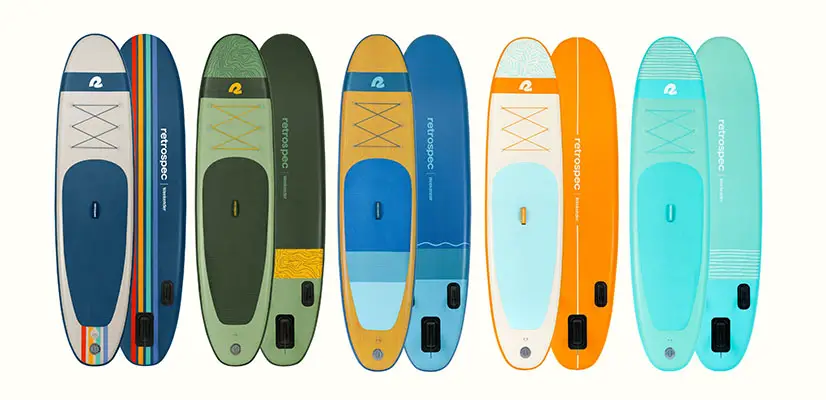 Handling of the Weekender
As with all all-round boards, the Retrospec Weekender 10′ is not designed for sporty performance. It is too wide for that and the rounded shape naturally slows down more in the water than a dynamic point. On the other hand, with its length of 305 cm (10′) it is very easy to manoeuvre and can be steered without any problems even by rather light paddlers. The focus here is clearly on good-natured handling and fun. Thanks to the high tilt stability, it can be quickly mastered by beginners and also activities such as SUP yoga, for which a calm surface is advantageous, can be practiced with the Weekender.
But even as a couple, with a child or dog, you can easily take the Retrospec Weekender for a leisurely ride.
SUP Features
Deckpad: The surface is covered with a non-slip deckpad. Thanks to this so-called EVA pad you always have a good grip even with wet feet and can paddle with full power.
Luggage net: In the front area there are several D-rings. An elastic band is attached to these, with which you can fix any equipment on the Retrospec SUP.
Carrying handle: Like every board, a carrying strap is mounted in the middle of the board. Therefore, this is always positioned at the point where the SUP is nicely balanced, it also marks the ideal position to stand there about shoulder width.
Fins: The three removable fins provide good straight-line stability and maneuverability.
Accessories in the Weekender starter set
Double stroke air pump: As a complete set is of course an air pump included (without this, an inflatable SUP would also be pretty useless =)). This air pump can pump air into the board in double stroke mode both when pushing down and when pulling up. Once the base pressure is reached and pulling up requires a lot of force, you switch to single stroke mode. In this mode, you only pump air when pushing down with your body weight.
Paddle: The 3-piece aluminium paddle can be infinitely adjusted to a length of 217 cm to suit your own body size.
Leash: The included safety leash is a coiled leash. This is already curled on the board and expands to the full length only in a fall into the water.
Transport Backpack: The backpack to the Weekender SUP is quite all right, with wide, comfortable straps and buckles for the perfect fit. It offers enough space for the board, all accessories and what else you need for a day at the lake.
Repair Kit: The repair kit contains a valve wrench and PVC patches for any repairs.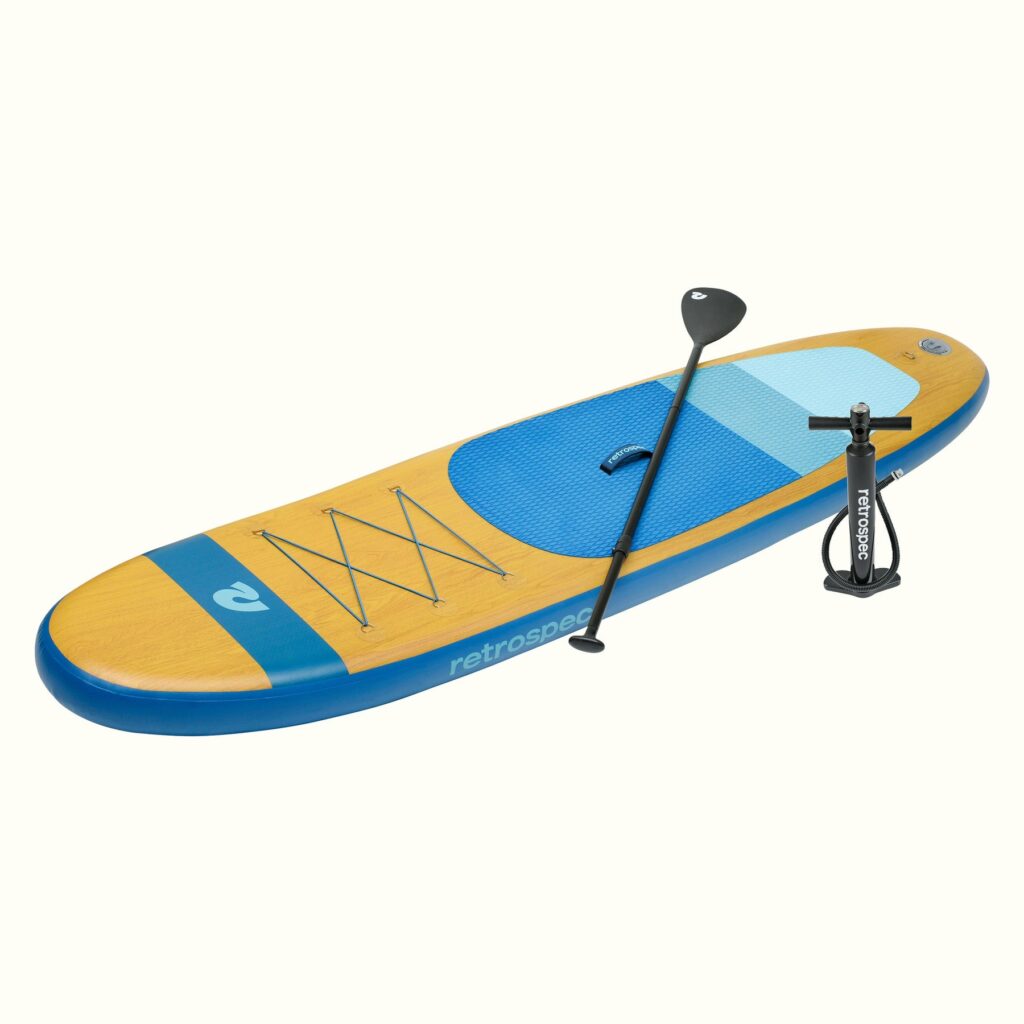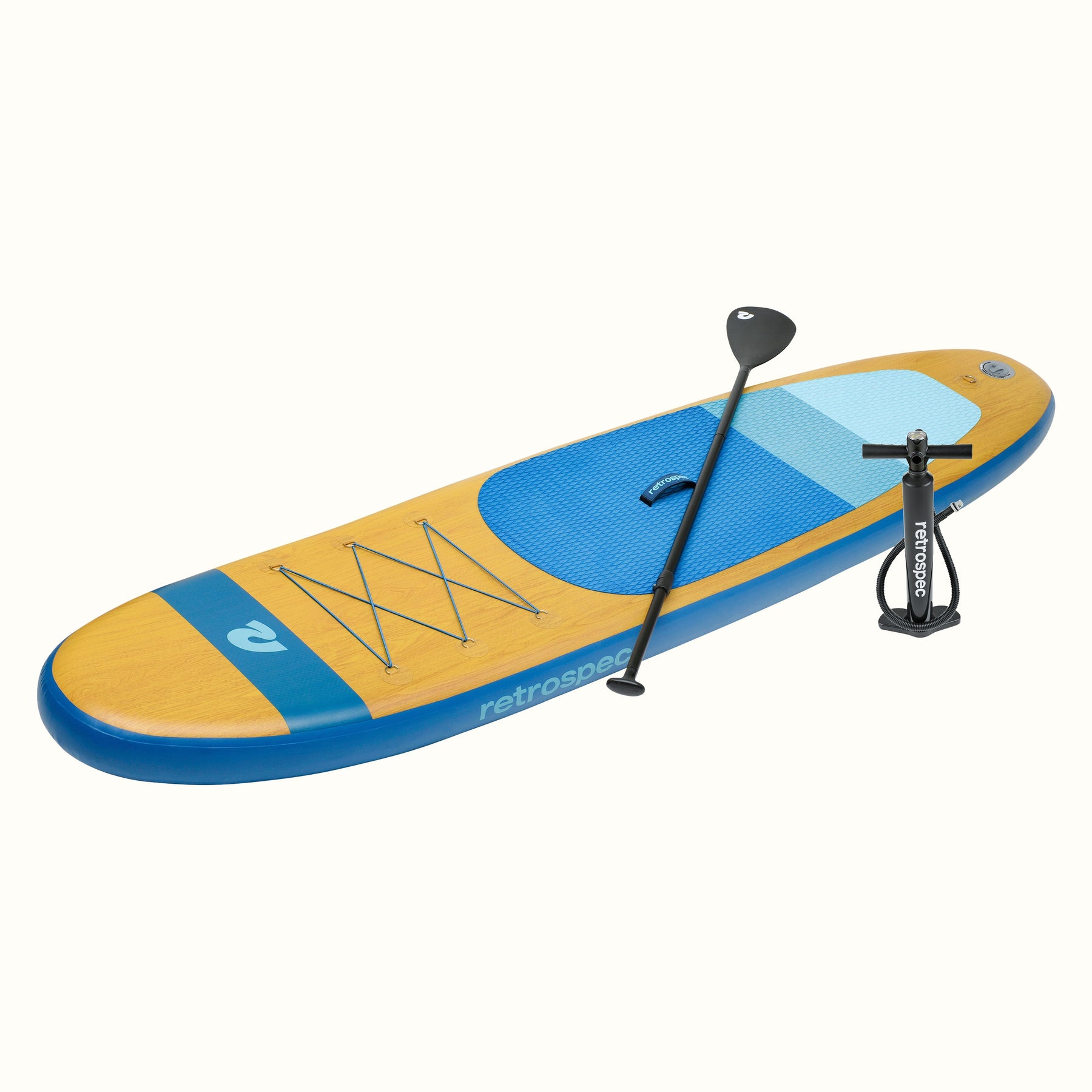 Our recommendation for you
Retrospec is a well-known manufacturer and represented in various sports. The Weekender 10′ inflatable SUP we can recommend to all who want to take a leisurely round on a calm water from time to time. For a fair price you get a good quality board, which comes without big frills and is ideal for beginners.