The most important facts about the Beast 10.6 in brief
The very eye-catching blue and neon yellow BEAST is one of Aqua Marina's most popular entry-level and beginner boards. With its length of 320 cm (10'6″) and a width of 81 cm it has balanced riding characteristics. That means it has a good tilt stability, so that even SUP newbies will quickly feel comfortable on it and is very maneuverable at the same time.
Aqua Marina has been offering the Beast for several years now and has always optimized it and given it a new look. It is the second smallest board of the "Advanced All-Around" series, under which Aqua Marina markets the high-quality all-round boards. The Advanced boards are all a bit bigger than their basic counterparts, and thus designed for a bit more load.
They also come with a slightly better pump and the Kick Pad is a feature that helps with dynamic turns.
The Aqua Marina Beast is supplied with the following accessories:
Double stroke air pump, 3-piece and infinitely adjustable paddle, a single safety line (leash), removable single fin (plug-in system), transport backpack for the SUP, repair kit.
Price-conscious SUP beginners and recreational paddlers who want to take a leisurely spin on the lake or calm river from time to time will be happy with the Aqua Marina Beast.
Aqua Marina Beast Specification
Without a doubt the Aqua Marina Beast is a classic allround board. Both the 320 cm (10'6″) length and the 81 cm (32″) width and the outer shape with rounded nose and rounded tail, fully correspond to a typical all-rounder.
Thus, the tilt stability is of course in the foreground. This allows beginners an easy and fast entry into Stand Up Paddling.
The thickness of 15 cm (6″) provides sufficient rigidity and a total volume of 300 liters. According to Aqua Marina, the board is designed for a load of 140 kg. This value should always be taken with a grain of salt. We assume that paddlers up to 100 kg can benefit from the optimal riding characteristics.
At 8.7 kg, the Aqua Marina Beast is one of the lighter SUP boards.
Pro/Contra
complete beginner's set at an affordable purchase price
high tipping stability and beginner friendly
weighing only 8.7 kg
also suitable for children
kayak seat (sold separately) mountable
Simple Leash only, not spiral
.
Construction/processing quality
Aqua Marina has managed to constantly improve over the years and are now one of the brands that consistently manage to deliver affordable boards with a reasonable quality. Of course, the SUPs of the "Advanced All-Around" series can not compete with the absolute premium products, but they are also a lot cheaper.
This is mainly due to the way Aqua Marina SUP boards are constructed.
The inside of the board consists of a so-called drop stitch core. Thousands of polyester threads connect the upper and lower side and give a SUP its final shape. Virtually all iSUPs today are made with this technology.
The visible outer shell consists of a single layer of PVC ("single layer"). Along the side surfaces, the so-called rails, the board is reinforced with double layers, which makes this part even more resistant and makes the SUP harder overall.
This single-layer construction is slightly less robust and stiff compared to a double-layer, i.e. 2-layer outer shell, but it is cheaper and much lighter. That's why the Beast SUP weighs just 8.7 kg, which is quickly noticeable when carrying it on your back. In addition, single-layer SUPs can be rolled up easier and smaller.
The build quality is generally okay. If you are extremely picky, you will certainly find a few glue residues or bubbles in some places, but this should not affect the longevity.
Handling/riding characteristics of the Beast SUP
On the water, the SUP can not quite keep what the name promises. Fortunately, because a real BEAST, which is difficult to tame, would probably not be the right thing for beginners. We would describe the Aqua Marina Beast as a good-natured SUP. Anyone who is new to stand up paddling or just goes for a little paddle now and then will be well served here.
Allrounders are usually a compromise. They are built wide enough so that even absolute beginners can find their balance on them. The length is long enough to maintain a certain tracking accuracy, so that you do not have to constantly change the paddle side, but still not too long to be able to make a turn.
Of course, a compromise always has its disadvantages. If you like to make very long tours or want to be fast on the road, you will quickly reach the limits here. For the first experiences on the water to make and comfortably enjoy nature, it is perfect.
Aqua Marina Beast Features
Deckpad: The large standing surface is covered with a non-slip EVA pad for a safe stand.
Luggage net: In the front area there is an elastic band to which you can fix any equipment on the SUP.
Carrying handle: Like every board, a carrying strap is mounted in the middle of the board. Therefore, this is always positioned at the point where the SUP is nicely balanced, it also marks the ideal position to stand there with shoulder width.
Several D-rings: To which, for example, the safety line (leash) or other accessories, such as an optionally available kayak seat to attach.
Kickpad: In the stern area, there is a small bump in the deckpad which is called a kickpad. This can be used with one foot to shift the weight backwards and perform a quick turning manoeuvre.
Accessories in the Beast starter set
Double stroke air pump: The air pump (Liquid Air V2) is a little better version than the boards from the "All-Around" series enclosed. Double stroke means that you pump air into the board both when pulling up and when pushing down. If this becomes more difficult towards the end, with increased pressure in the SUP, you can switch to single stroke operation. Then you can use your body weight to pump the last few PSI into the board when pushing down.
If you go full throttle, you can inflate the board in about 5 minutes. After 10 minutes at the latest, even those who take it easy will be done.
Aqua Marina Paddle (Sports III): This is a simple aluminum paddle with plastic handles and plastic blade. With approx. 1050 g it is comparatively rather heavy, but in practically all beginner's sets these are made of aluminum. For the beginning this is usually enough. If you then but more often and something sporty is on the road change to a lighter composite or carbon paddle.
The 3-piece "Sports III" paddle is continuously adjustable from 175 to 210 cm.
Single fin: The single middle fin is easily mounted without tools via the plug-in system. The large dolphin-shaped fin ensures that the board runs straight ahead and does not just float around in the water.
Leash: We find positive that Aqua Marina to all their boards a leash included, this is not the case with all manufacturers. We recommend to always use this for safety, because in case of a fall into the water, it prevents the board from drifting and you always have a saving island nearby.
Unfortunately, this is not a spiral coiled leash. This would always lie nicely curled on the board and not be dragged in the water after.
After all, because of the way the Aqua Marina Leash is woven, it is somewhat contracted and shortened, and only when pulled does it lengthen to its full length.
Transport backpack: The backpack is another item that has been upgraded over the years. It used to be a very simple folding backpack and now it's a real backpack, with a large main compartment and enough space to fit everything. The lightly padded straps are adjustable and a chest strap provides a good grip.
Repair kit: Also included is a repair kit with a few PVC patches and a valve wrench.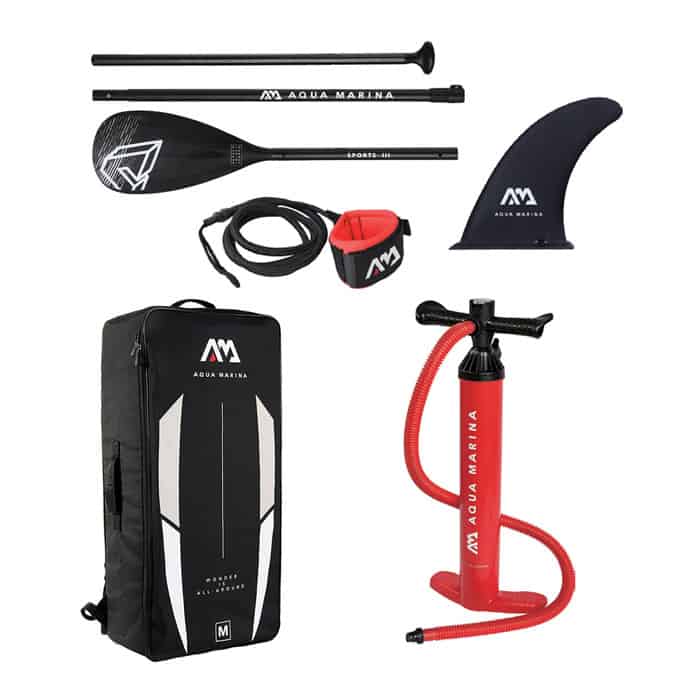 Our recommendation for you
The Aqua Marina Beast is an entry-level board with good tipping stability and handling characteristics, as you would expect from an all-round SUP. Aqua Marina is a brand that has proven the quality of its products over the years.
From our point of view, the few improvements you get with the boards from the "Advanced All-Around" series are worth it. The price-performance ratio is really successful.
For people up to a weight of 100 kg, who are only occasionally on the SUP as a couple or with a dog, the maximum load of 140 kg will be sufficient.
If this doesn't apply to you, Aqua Marina also has smaller and even larger SUPs on offer for lighter and heavier people.
For beginners getting their first SUP and price-conscious casual paddlers who like to go out for fun, the Aqua Marina Beast could be a very interesting SUP for them.